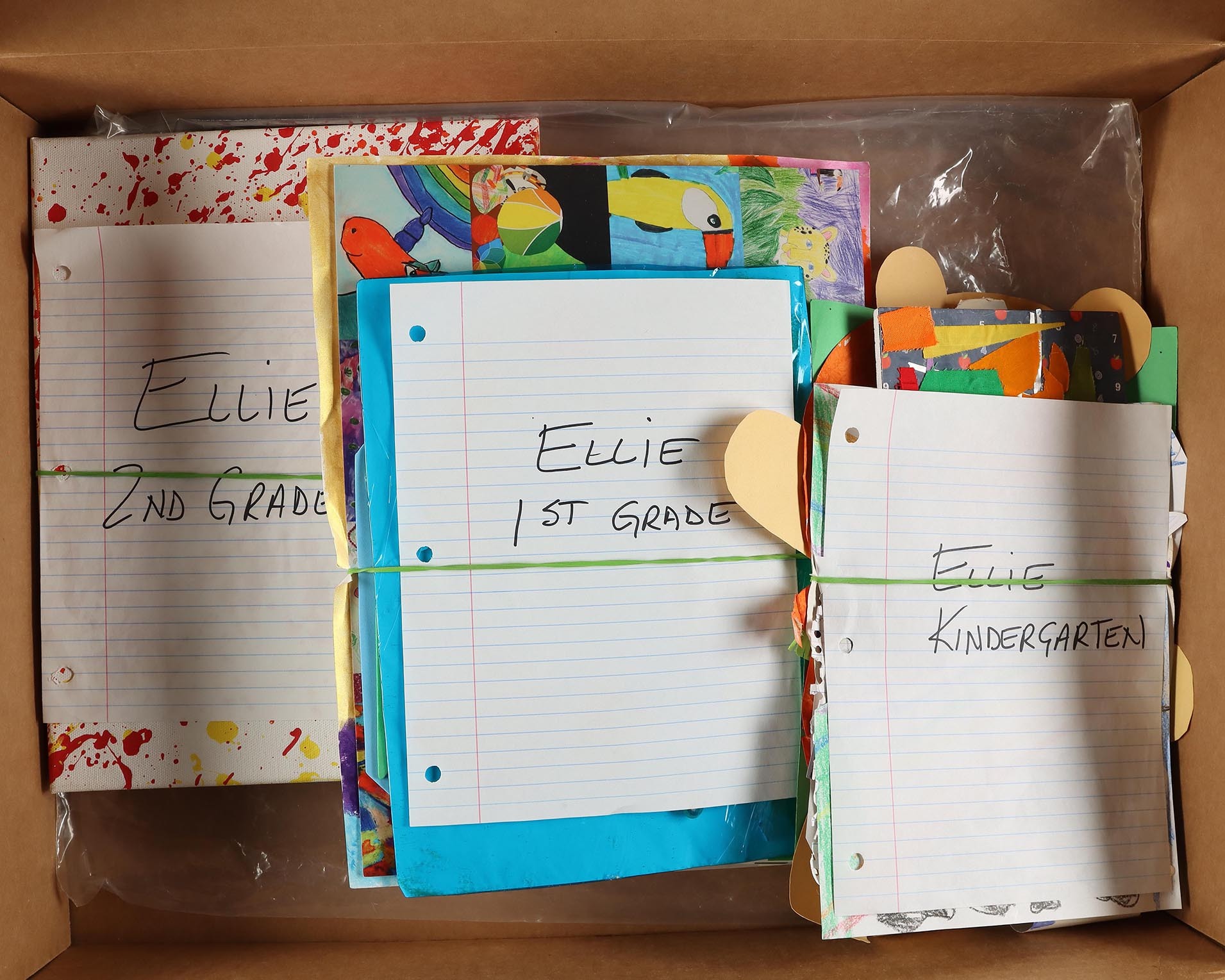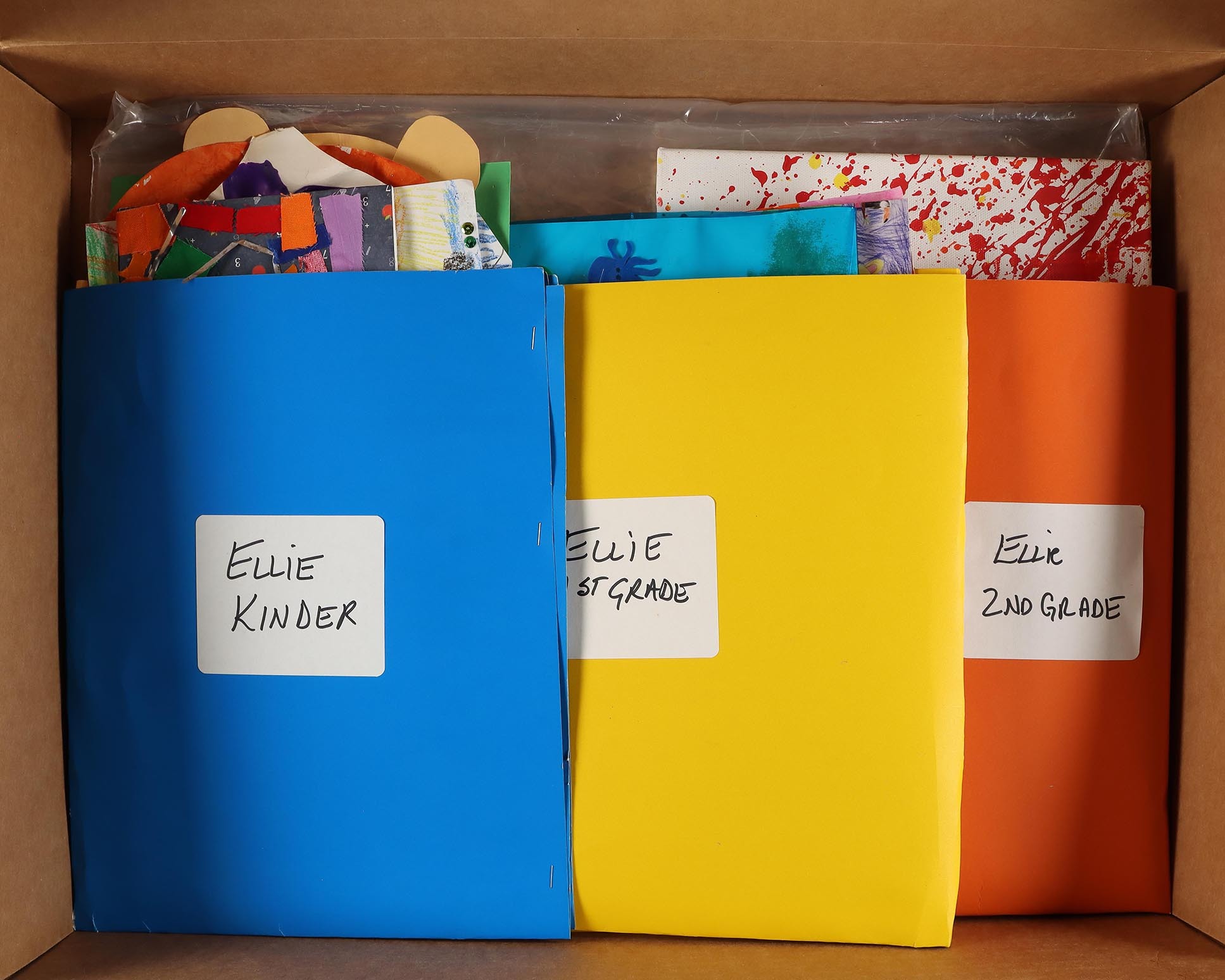 .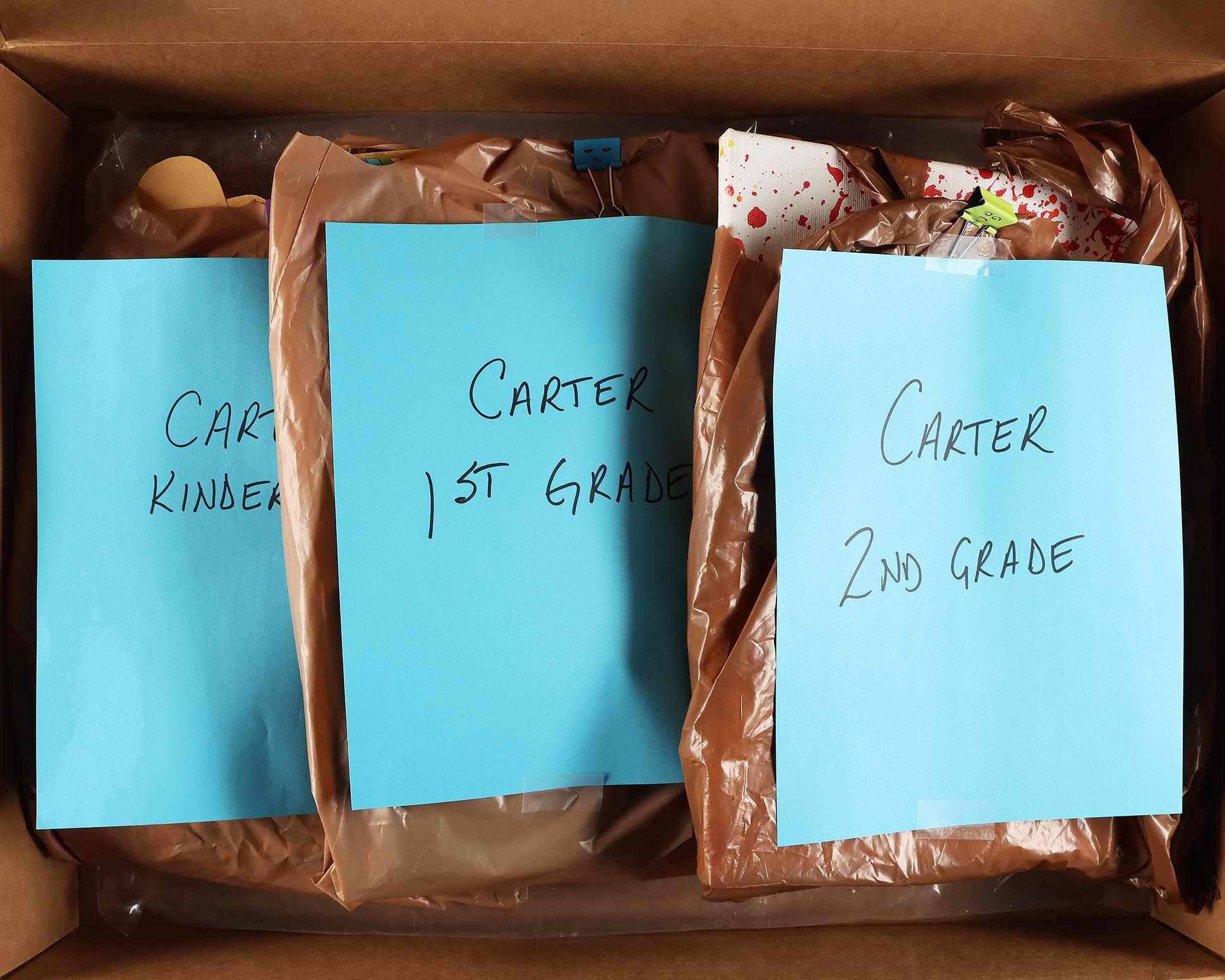 These methods of separating artwork best:
MAKE A GIANT POCKET OUT OF A PIECE OF CARDBOARD
Take a standard-sized piece of poster cardboard, fold it in half and tape the sides- this makes a pocket to hold art and it fits perfectly inside an Artkive Box! You can also write notes on the outside of the folder.
Ziplocks, grocery store bags, trash bags, etc. are great when the art is neatly piled inside and the opening is secured so the art can't fall out. You can also make notes on many of these bags as well.
USE FOIL AND WRAPPING PAPER.
Make a pile of the art and wrap all sides completely in tin foil or heavy-duty wrapping paper; this will keep the art from separating in the box during shipping.
If you choose to use binder clips, please make sure you have secured all art into the binder clip and use multiple if necessary. Please be aware that odd-shaped or small items can slip out!
These methods are not effective:
DON'T USE STRING OR RUBBERBANDS TO HOLD ART TOGETHER.
The edges of the paper can rip in transit.
DON'T USE BINDER OR PAPER CLIPS THAT ARE TOO SMALL. CLOTHESPINS DON'T WORK!
More likely than not, your art will separate in transit if you are putting too many items in one clip. Use multiple clips and multiple piles.
More Tips
Each pile of art should clearly indicate the child/age the art represents.
Please avoid rolling art as it can cause warped edges; it is much easier to photograph folded art
While it isn't required, labeling each piece with the child's name and age is a good back up in case art comes out of the piles. You can add dates and labels but these will not be added to your images by our team. They can be added when the art is returned to you.
Covering or wrapping glitter art with a bag is extremely helpful to prevent glitter from spreading throughout the box.
We have a love/hate relationship with sticky notes. When they stay stuck on the proper pile of art, they can be a big help! However, not all sticky notes are created equal; some aren't as sticky as others and some are too sticky and ruin art! If you are going to use sticky notes, please try to use ones that have a good stick to them and are at least 3"x3"; when attaching to a pile or piece of art, try to place it where it will not obscure an image if damage occurs, and try to secure it under a paper or binder clip.
If you have special instructions, please include them in your box. You can also email help@artkiveapp.com and we can make a note in your Artkive Box account.