How do I order an Artkive gift card?
Visit www.artkiveapp.com/giftcard to order a gift card. We have two gift options:
Physical Gift Cards - sent to the recipient in a small 6x6 white cardboard box, with Artkive ribbon and a hand-written note.
E-Gift Cards - sent via email directly to the recipient on the date you select with a custom note.
How do Artkive gift cards work?
Your recipient redeems their gift card by going online and ordering an Artkive Box with the promo code on the back of the physical card or in the e-gift email.

They fill the box with art and send it back (pre-paid shipping label is included).

We photograph, edit and lay out their book, and send them an electronic proof for review.

Once the proof is approved, we send their custom book!
What does the gift card include?
Physical Gift Cards are delivered in a small 6x6 white cardboard box with Artkive ribbon and a hand-written note. E-Gift Cards are delivered via email on the date of your choice with a personalized message. The recipient will enter a promo code to receive their Artkive Box (artwork shipping kit - normally $39), a pre-paid UPS label to send the box back (full of art), the professional photography and editing of up to 25 pieces of art, laying out a book proof for review, printing and shipping the final custom book (normally an additional $75). It's a $114 value.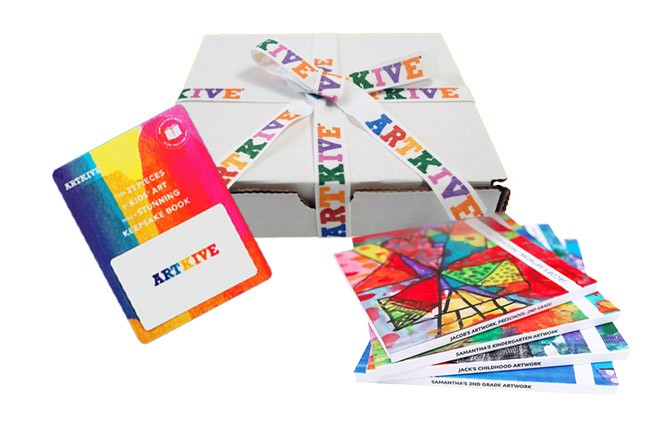 How long will it take for my recipient to receive their Artkive gift card?
Physical Gift Cards are usually mailed out within a day of being ordered and typically arrive within 5 business days.
E-Gift Cards can be delivered right away or on the date of your choice.
How do I redeem an Artkive gift card?
Go to https://www.artkiveapp.com/giftcard and select the Redeem Here link.
OR
Visit www.artkivebox.com, and select "Order a Box". At the first step of check out, in the promo code field, enter the characters under the scratch off on the back of the card or the code in your e-Gift email. There will be two optional add-ons for having your art returned ($20) and getting a USB of your images ($25). A credit card will be required if you select those items. If you un-check those options, no credit card will be required. Instructions are also on the back of your gift card.
Can I use a promo code along with my gift card?
Our 25-piece gift cards can not be combined with other promotional offers.
What if I ordered my box and forgot to enter the gift card promo code?
Please contact customer service at help@artkivebox.com and include your promo code in the email.
Can I add additional pages to the 25-page book that comes with the gift card?
Yes, you definitely can. You will get billed for any pieces beyond the 25. It's about $2-3 extra per page to digitize your images and include them in your book.
Can I purchase a gift card for myself?
Of course! Simply enter your information as the recipient.
Who would like to receive an Artkive gift card?
YOU! -

we run promotions on gift cards, especially around the holidays, that make them a great deal

Your Children

Your Wife/Husband

Your Siblings

Your Best Friend

Your Nephews/Nieces

Your Cousins

Your Teacher

Your Colleagues
Can I combine gift cards to get a 50-page book?
No, each gift card is for one book package. If you'd like a longer book, you can pay for additional pages / pieces of art beyond the first 25 free pages.
Can I buy a specific dollar amount instead?
Our standard offering is the 25-piece physical and e-gift card, but if you'd like a different denomination you can request an electronic gift of a specific value here.
What can my recipient send in the box?
In addition to artwork, we can photograph cards, 3D art, trophies, awards….. pretty much anything that fits in the box! We also have an oversized photo station that can accommodate huge pieces of art or anything else.
How long does it take to get an Artkive Box?
About a week after the recipient redeems their gift card on the website.
How long does it take to get a book?
Once we receive their art, we will deliver a book proof within 6 weeks. After they finalize and submit the book proof, it takes about two weeks to receive your book. We do try to accommodate rush requests and times may vary around the holidays.
Can my recipient get their art back?
Yes, they just select that option when they redeem the gift card and order a box. It's a $20 fee.
Can I cancel my gift card order?
Gift Cards are non-refundable
Click Here to learn more about redeeming Gift Cards.